Did you know that pride deprioritizes the Truth of God, for idolatry and emotive control of people by outwardly promoting self-, religious-, or cultural-importance?
"…For where there are envy, strife [contention, factions], and divisions among you are you not carnal [unspiritual and fleshly] and behaving like mere men [unsaved, unbelieving people]?" (1Cor 3:3). "Let nothing be done through selfish ambition [strife, factional motives, contentiousness] or conceit, but in lowliness of mind [modesty and humility] let each esteem others better than himself. Let each of you look out not only for his own interests but also for the interests of others. Let this mind [purposeful attitude of humility] be in you which was also in Christ Jesus" (Php 2:3-5).
Live in Goodness or Die by Strife and Dissension.
Strife, however, which is scheming or intrigue due to selfish ambitions is purely inward and self-serving. Though it leads to contentious, partisan, dishonest, double-dealing, self-ambitious, self-seeking pursuits. It is about self-interests, self-absorption, self-centeredness, and contending only for self. Such dishonorable tendencies create an environment and are enablers for seditions or dissent, disunion, and divisions among brethren which breeds discord, dispute, antagonism, infighting, and conflict.
According to scripture "But if you have bitter envy and self-seeking in your hearts, do not boast [pride yourself in it] and lie against [be in defiance of] the truth. This [superficial and fleshly] wisdom does not descend from [our Heavenly Father] above but is earthly, sensual, demonic. For where envy and self-seeking [rivalry and selfish ambition] exist, confusion [unrest, disharmony, rebellion] and every evil thing [vile practices] are there. But the wisdom that is from above is first pure [undefiled], then peaceable, gentle, willing to yield [to reason], full of mercy and good [wholehearted, straightforward, spiritual] fruits, without partiality and without hypocrisy [dishonesty and insincerity]" (Jam 3:14-17).
With wholehearted straightforward goodness which is integrity, virtue, and beneficence, the life pursuits; death and resurrection, of Jesus Christ, our brother is exemplary of how to kill strife or selfish ambitions, and therefore dissension. For carnal brethren who are characteristically instigating dissensions because of selfish ambitions or tendencies, know that Jesus lived and died, rose from death and lives eternally for a united spiritual family of God, the father.  He said to the Father "As You sent me into the world, I also have sent them into the world.  And for their sakes I sanctify [dedicate and concentrate] myself, that they also may be sanctified [dedicated, consecrated, and made holy] by the truth.  I do not pray for these alone, but also for those who will believe [trust and rely] in me through their word [preaching and teaching]; that they all may be one, as You, Father, are in me, and I in You; that they also may be one in us [united in faith, family, and Spirit], that the world may believe that You sent me" (Jn 17:18-21).
The lesson is to rid us of all selfishness that breeds division through "…all lowliness [humbleness of mind] and gentleness [meekness, unselfishness], with longsuffering [patience], bearing with one another in [making allowances because of] love, endeavoring to [guard and] keep the unity of the Spirit in the bond of peace. There is one body and one Spirit, just as you were called in one hope of your calling; one Lord, one faith, one baptism; one God and Father of all, who is above all, and through all, and in you all" (Eph 4:2-6). But how did Jesus accomplish this selfless unity for us?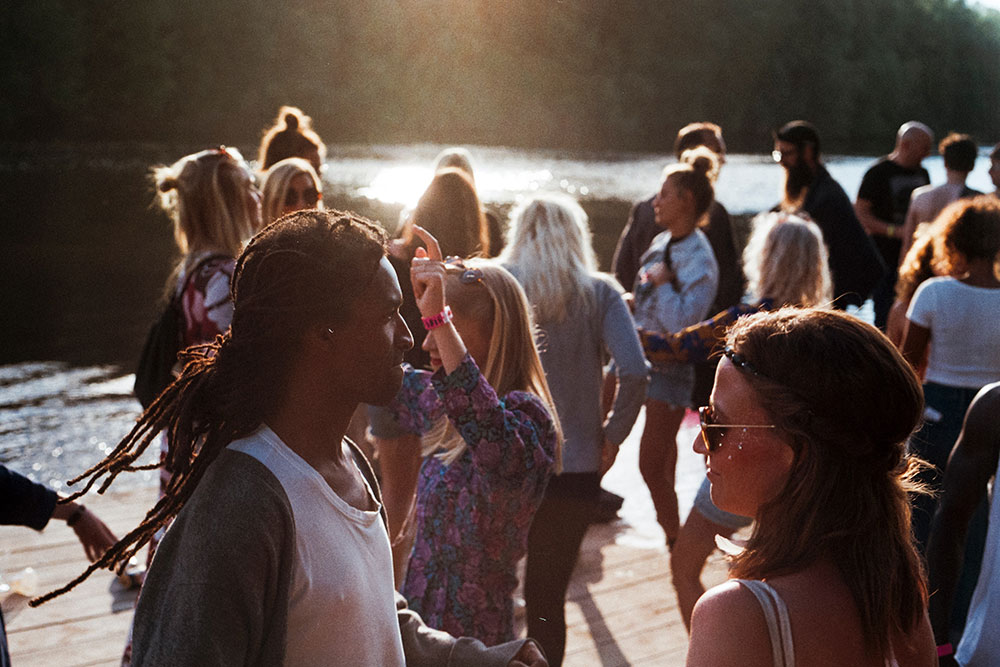 Our brother and Lord, Jesus disregarded personal ambition to generously give his life in obedience to the Truth of God's word, in order to produce in us righteousness and life, family, hope, and unity in God. For "…Christ Jesus, who, being in the form [essentially one in nature with and having all the attributes] of God, did not consider it [his status-quo a] robbery [a thing to cling to or eagerly grasp in order] to be equal with God, but made Himself of no reputation [set aside the privileges of deity], taking the form of a bondservant, and coming in the likeness of men [human beings]. And being found in appearance as a man [becoming human], He humbled Himself [selflessly] and became [unselfishly] obedient to the point of death, even the [worst kind of] death of the cross" (Php 2:6-8).
Demolish Selfish-Ambitions or Dissension by Goodness; a fruit of the Spirit
You can demolish selfish and self-seeking works of the flesh with its accompanying partisan antagonist divisions by "considering others better than yourself …looking out not only to your own interests but also for the interests of others" (Php 2:3-4). Generously sow the seed of selflessness to reap the fruit of goodness, which kills strife and dissension. "Remember this: Whoever sows sparingly will also reap sparingly, and whoever sows generously will also reap generously" (2Cor 9:6).
Jesus said "Give, and it will be given to you. A good measure, pressed down, shaken together and running over, will be poured into your lap. For with the measure you use, it will be measured to you" (Luk 6:38). So "Do not be deceived: God cannot be mocked [by mere pretensions or professions]; for whatever a man sows, that he will also reap. For he who sows to his flesh [own lower carnal nature and sensuality] will of the flesh reap corruption [destruction], but he who sows to the Spirit will of the Spirit reap everlasting life" (Gal 6:7-8).
As an encouragement, "Let us not become weary [loose heart and faint] in doing good, for at the proper time [in the due season] we will reap a harvest if we do not give up [courage and faint]. Therefore, as we have opportunity, let us do good to all people, especially to those who belong to the family of [God, the] believers." (Gal 6:9-10). "God is not unjust; he will not forget [overlook] your work and the love you have shown him [for his name's sake] as you have helped his people [by your generosity] and continue to help them" (Heb 6:10).